October 2018
Cash Calendar Winners!
Jackie Fuchs ($100)
Suzanne Perras-Campbell ($50)
Susan Rainey ($50)
Wendy Walsh ($50)
Claude Bourque ($50)
Maurice Osborne ($50)
Chris Thompson ($50)

Click here to see all the winners!
Sing "The Lions Roar" along with the Russell Lions!

From left to right: Lion Gord Saunders, Lion Bill Rankin, Lion Henry Staal, Lion Earl Maas, Lion Jack McLaren, Lion Jim Sullivan and Lion Frank Thompson. Video by: Lion Marc Bourque

Re-live the Moments
& Videos from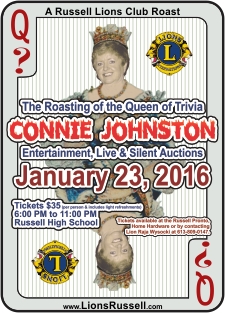 Click here.
Contacting the Lions Club of Russell
The Lions Club of Russell can be contacted by postal mail or by e-mail at the addresses below.
Postal Address
Lions Club of Russell
P.O. Box 430
Russell, Ontario K4R 1E3
Canada
E-mail

For any website-related issues, please contact: