December 2018
Cash Calendar Winners!
Jim Inch ($100)
William Rombough ($50)
Bob Cote ($50)
Joanne Clemens ($50)
Alice Kenny ($50)
Robert Hannigan ($50)
Jim Stewart ($100)
Stephanie Vermeulen ($50)

Click here to see all the winners!
Sing "The Lions Roar" along with the Russell Lions!

From left to right: Lion Gord Saunders, Lion Bill Rankin, Lion Henry Staal, Lion Earl Maas, Lion Jack McLaren, Lion Jim Sullivan and Lion Frank Thompson. Video by: Lion Marc Bourque

Re-live the Moments
& Videos from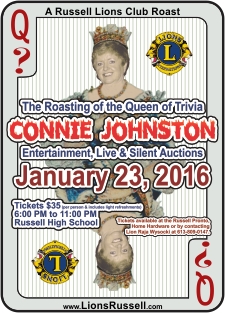 Click here.

In the News

We Lions don't seek to 'toot our own horns' but occasionally others do. Here are some articles and news worthy items that have appeared in the local media.

---

2015


September


Lions Message in a Bottle
Exciting News! The Russell Lions Club is introducing Lions Message in a Bottle: a community-wide program supported by the Russell Fire Dept., Prescott-Russell Emergency Services and the Downtown IDA Pharmacy. Lions Message in a Bottle will help to save lives in our community by saving time, ensuring First Responders and Emergency Room Doctors and Nurses have vital information which is critical to your treatment... click here for more

2014


December


Lions Continue Christmas Tradition with Seniors
Pictured are Russell Lions Club members Margaret Pettipas and Jack McLaren present Carmelle Laurier (centre) with a carton of delicious Christmas cake... click here for more


LIONS TEAM UP WITH OPP
The Ontario Provincial Police Russell County Detachment provided the Russell Lions Club with several unclaimed bicycles that they have been holding in their garage in Embrun for several months... click here for more

October

LIONS PREPARE FOR CHRISTMAS SEASON
The Russell Lions Club are getting ready for the 2014 Christmas Season. The season always brings out the best in our community and allows all of us to focus on the good inherent within the human spirit... click here for more
September

LIONS CLUB 50/50 WINNER AT THE RUSSELL FAIR
Yet another fund raising activity for our community Russell Lions Club members were selling 50/50 tickets at the Russell Fair. The Lions raised $2,023... click here for more
August

LIONS SUPPORT DRUG REALITY PROGRAM
On behalf of the Russell Lions Club Lion Janice Stewart presents a donation to Kelly LeBlanc and Kyle Gregg, Co-coordinators of the Drug Reality Tour Program... click here for more

LIONS SUPPORT HORTICULTURAL SOCIETY
Russell Lions First Vice President Dean Benson presents a cheque to Lindley McPhail, Board Member of the Russell Horticultural Society... click here for more

June

THANK YOU SCOTIABANK
The Russell Lions Club were on the receiving end of a double benefit arising out of Scotiabank's sense of community Spirit... click here for more