October 2018
Cash Calendar Winners!
Jackie Fuchs ($100)
Suzanne Perras-Campbell ($50)
Susan Rainey ($50)
Wendy Walsh ($50)
Claude Bourque ($50)
Maurice Osborne ($50)
Chris Thompson ($50)

Click here to see all the winners!
Sing "The Lions Roar" along with the Russell Lions!

From left to right: Lion Gord Saunders, Lion Bill Rankin, Lion Henry Staal, Lion Earl Maas, Lion Jack McLaren, Lion Jim Sullivan and Lion Frank Thompson. Video by: Lion Marc Bourque

Re-live the Moments
& Videos from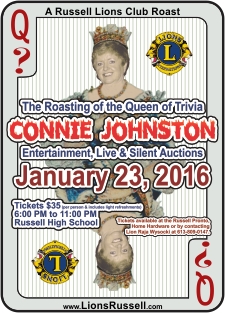 Click here.
Board of Directors: 2018–2019
| | |
| --- | --- |
| Title | Name |
| Past President | Lion Sylvia Smith |
| President | Lion Janice Stewart |
| First Vice-President | Lion Jean Lauziere |
| Second Vice-President | Vacant |
| Secretary | Lion Margaret Pettipas |
| Treasurer | Lion Peter Cowling |
| Director (1-year) | Lion George Rogers |
| Director (1-year) | Lion George Rogers |
| Director (2-year) | Lion Stephen Estabrooks |
| Director (2-year) | Lion Ashley Stewart |
| Lion Tamer | Lion Ken Erickson |
| Tail Twister | Lion Stephen Estabrooks |
| Membership Chairperson | Lion Raja Wysocki |
| LCIF Coordinator | Lion Margaret Pettipas |