December 2018
Cash Calendar Winners!
Jim Inch ($100)
William Rombough ($50)
Bob Cote ($50)
Joanne Clemens ($50)
Alice Kenny ($50)
Robert Hannigan ($50)
Jim Stewart ($100)
Stephanie Vermeulen ($50)

Click here to see all the winners!
Sing "The Lions Roar" along with the Russell Lions!

From left to right: Lion Gord Saunders, Lion Bill Rankin, Lion Henry Staal, Lion Earl Maas, Lion Jack McLaren, Lion Jim Sullivan and Lion Frank Thompson. Video by: Lion Marc Bourque

Re-live the Moments
& Videos from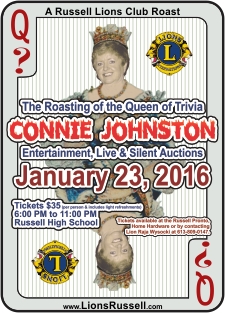 Click here.
Links of Interest
The links below all open in new windows. The content of the sites being linked to are not under the control of the Lions Club of Russell and are not part of this Website.

Local Links:
The Russell Township Website providing information about the Township.

Online resource for everything Russell-related. Community calendar, business directory, community & sports group lists and much more...

Russell & District Horticultural Society

Founded in 1919, the Russell and District Horticultural Society has deep roots in the community. Located south-east of Ottawa, the Village of Russell and the surrounding area is a pleasant and growing community nestled along the Castor River.

Additional Links of Interest:
Primary Lions International Website.

Links to Lions Clubs worldwide.

Links to Ontario Lions Clubs.

Website of the district Lions Club to which the Lions Club of Russell belongs.

The Website of the Barrhaven, Ontario Lions Club.