January 2018
Cash Calendar Winners!
Stephanie Vermeulen ($100)
Colleen Gesner ($50)
Wilton Gamble ($50)
Mabel Palmer ($50)
Jim Cooper ($50)
Joanne Clement ($50)
Robert Levesque ($50)
Mathew Smith ($50)
Ursula Bourque ($50)

Click here to see all the winners!
Sing "The Lions Roar" along with the Russell Lions!

From left to right: Lion Gord Saunders, Lion Bill Rankin, Lion Henry Staal, Lion Earl Maas, Lion Jack McLaren, Lion Jim Sullivan and Lion Frank Thompson. Video by: Lion Marc Bourque

Re-live the Moments
& Videos from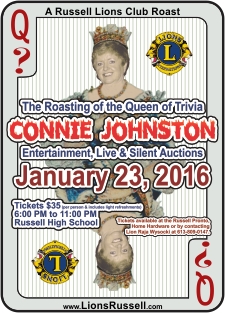 Click here.
Meetings of the Lions Club of Russell
The Lions Club of Russell holds regular meetings of both the general membership and the board of directors.
When
General membership meetings, which are dinner meetings, are held the second and fourth Tuesday of each month at 7:00PM. No meetings are held during July and August.

Board of directors meetings are held the third Tuesday of each month at 7:00PM.
Where
All meetings are held at the Lions Den Located at No. 24 Legion Lane in Russell.