We Put Russell First!

Welcome to the Russell Lions Club website. This year marks a milestone for the Club as it enters its 75th year of service. We invite you to help us celebrate this special anniversary year and ask you to check the web site periodically for upcoming events. The Club has great plans for the coming year as we strive, like others, to adapt to the new reality.

Lion Sylvia Smith
President

Our Lions Cash Calendar Has Returned!
Here are the January Cash Calendar Winners!

Brock Anderson ($100)
Suzanne Brunet ($50)
Jonah Brunet ($50)
Courtney Wade ($50)
James Feeley ($50)
George Martel ($50)
Denis Bedard ($50)
Vincent Bedard ($50)
Roxanne Horic ($50)

Click here to see these and all past winners!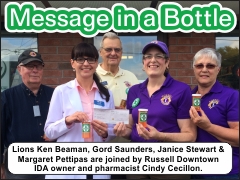 The Russell Lions Club is introducing Lions Message in a Bottle: a program which will help save lives in our community.
Click here for more info.

---

Re-Live the RCMP Musical Ride!

Video by: Lion Marc Bourque

Click here for pictures and videos.