November 2018
Cash Calendar Winners!
Brent Pyper ($100)
Dennis Drevniok ($50)
Alex Kiskis ($50)
Bill Young ($50)
Mona Saunders ($50)
Eric Campbell ($50)
Sylvie Brault ($50)

Click here to see all the winners!
Sing "The Lions Roar" along with the Russell Lions!

From left to right: Lion Gord Saunders, Lion Bill Rankin, Lion Henry Staal, Lion Earl Maas, Lion Jack McLaren, Lion Jim Sullivan and Lion Frank Thompson. Video by: Lion Marc Bourque

Re-live the Moments
& Videos from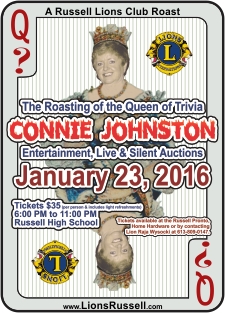 Click here.

We Put Russell First!


What a year it has been! After celebrating Canada's sesquicentennial, Lions International 100th Anniversary and the Russell Lions Club 71st Charter Anniversary, we must now set our sights on the coming year.

There is much to do as we move forward and continue to serve our community. As usual, we know we can count on you to help us achieve our goals so that we can better serve the community and to help those who are in need.

While you are visiting the Club's web site, explore and see how we work and play. Should you have questions or have a specific interest in the Club, don't hesitate to contact any Lions member.



Lion Janice Stewart
President
Russell Lions Club


The Russell Lions Club is introducing Lions Message in a Bottle: a program which will help save lives in our community.
Click here for more info

---


Our first ever cookbook!
Click here to read all about it!