November 2018
Cash Calendar Winners!
Brent Pyper ($100)
Dennis Drevniok ($50)
Alex Kiskis ($50)
Bill Young ($50)
Mona Saunders ($50)
Eric Campbell ($50)
Sylvie Brault ($50)

Click here to see all the winners!
Sing "The Lions Roar" along with the Russell Lions!

From left to right: Lion Gord Saunders, Lion Bill Rankin, Lion Henry Staal, Lion Earl Maas, Lion Jack McLaren, Lion Jim Sullivan and Lion Frank Thompson. Video by: Lion Marc Bourque

Re-live the Moments
& Videos from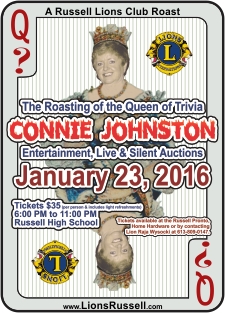 Click here.
Photo Gallery
Photographs are broken into three major groups:

To see a full-size version of any photo, click the thumbnail image. The full-size image has links to see next and previous photos within the group as well as a link back to this page.

Please take note that some of the events listed in our Photo Gallery may no longer be regularly held events.
Membership and Award Ceremonies

Special Events

ANNUAL LOBSTERFEST

PAST WEEKLY BINGOS

CANADA DAY

Community Service Activities