January 2018
Cash Calendar Winners!
Stephanie Vermeulen ($100)
Colleen Gesner ($50)
Wilton Gamble ($50)
Mabel Palmer ($50)
Jim Cooper ($50)
Joanne Clement ($50)
Robert Levesque ($50)
Mathew Smith ($50)
Ursula Bourque ($50)

Click here to see all the winners!
Sing "The Lions Roar" along with the Russell Lions!

From left to right: Lion Gord Saunders, Lion Bill Rankin, Lion Henry Staal, Lion Earl Maas, Lion Jack McLaren, Lion Jim Sullivan and Lion Frank Thompson. Video by: Lion Marc Bourque

Re-live the Moments
& Videos from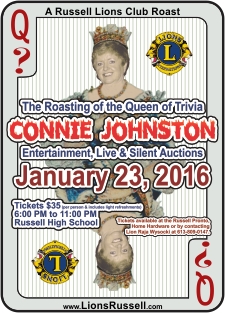 Click here.
2018 Annual All-You-Can-Eat Lobsterfeast
The date for this year's Lobsterfeast is Saturday May 26th, 2018.

Tickets available now! To get your tickets, contact Lion Jack McLaren at 613-445-2131 (LobsterFeast@LionsRussell.com) or buy them online by clicking here (Online purchase surcharges apply).

Here are the details so far...

Doctor Frank Kinnaird Community Centre (Russell Arena)
$65.00 per ticket
Doors Open 5:00pm.
Dinner 7 - 9
Dancing 9 - 1
Cash Bar

Stay tuned to this page for more information on the 2018 Lobsterfeast as this event draws nearer. In the meantime, have a look below some pictures from past Lobsterfeasts.

---
Pictures
If you were at one of our Lobsterfeasts, maybe you'll see yourself here. If you weren't there, see what you missed-out on! Click on any picture to enlarge.