June 2018
Cash Calendar Winners!
Phil Taylor ($100)
Derek Smith ($50)
Les Unterhoffer ($50)
Bob MacDonald ($50)
Jeff Goulding ($50)
Denis Charron ($50)
Lise Waugh ($50)

Click here to see all the winners!
Sing "The Lions Roar" along with the Russell Lions!

From left to right: Lion Gord Saunders, Lion Bill Rankin, Lion Henry Staal, Lion Earl Maas, Lion Jack McLaren, Lion Jim Sullivan and Lion Frank Thompson. Video by: Lion Marc Bourque

Re-live the Moments
& Videos from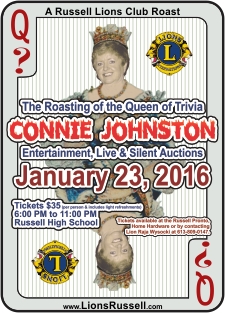 Click here.
The Russell Lions 2016 Angel Trees
The Russell Lions Club Angel Trees are now up! They are located at the Russell Home Hardware and Urban Country. The Angel Trees will be up until December 12th, 2016. The demand is higher this year and we need the generous people of Russell to help out.

Hereís how to adopt an Angel:
Take an angel from the Angel Tree at Urban Country or Home Hardware.
Purchase gift(s) for that child.
Donít wrap your gifts! Bundle all of your new and unwrapped gifts and return them to the business where you received your Angel (Home Hardware or Urban Country) before December 12th, 2016.
Donít forget to include the Angel you took from the tree! This way, we will know which child should receive the gifts.
You may include gift wrap and wrapping accessories with your gifts, but please do not wrap your gifts.
Thank you in advance for your support!