We Put Russell First!

Welcome to the Russell Lions Club website!

Our club has achieved a major milestone – 75 years of service to our community!

We invite you to celebrate with us during our 75th Charter celebrations this fall, which will take place the week of September 12-17. Please check our website and Facebook page regularly for events that will take place.

With a new Lions year ahead of us, our club is eager to get back to 'full speed' and we also look forward to your continued support.

Lion Ashley Stewart
President

May Lions Cash Calendar Winners!

Deanne Van Loon ($100)
Esther Beach ($50)
Valerie and Denis Dumoulin ($50)
Brenda Littlejohn ($50)
Norah Martel ($50)
Keith Reardon ($50)
Diane Theriault ($50)

Click here to see these and all past winners!

LOBSTERFEAST
2023
CANCELLED



It's with sadness that we must announce that that this year's Lobster Feast will not take place.

The Russell Lions Club thanks you for your patience, understanding and your continued support.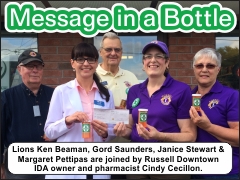 The Russell Lions Club is introducing Lions Message in a Bottle: a program which will help save lives in our community.
Click here for more info.

---

Re-Live the 2018 RCMP Musical Ride!

Video by: Lion Marc Bourque

Click here for pictures and videos.