December 2020
Cash Calendar Winners!
Theresa O'Connor ($100)
Susan Chalmers ($50)
Francine Perras ($50)
Josh LeClair ($50)
Neil & Robyn Johnson ($50)
Bob Dore ($50)
Sylvie Lair ($50)
Ken Erickson, Jr. ($100)

Click here to see all the winners!
We Loan Out Medical & Mobility Equipment!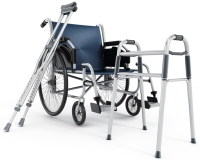 People are surprised to hear that we loan out medical and mobility equipment for free to anyone in our community.

Click here for more information.

Re-live the Moments
& Videos from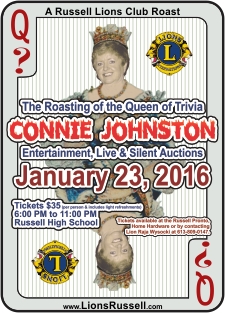 Click here.
We Put Russell First!


Welcome to the Russell Lions Club website.

As our Club begins its 73rd year of service to the community, you are invited to explore our website and learn about our Club and how we are so proud to help our community.

As you will see, our Club is an active and dedicated group of like-minded individuals who live by our Clubís motto: WE SERVE!

Should you ever consider becoming a Lion, let us know and you could come out to a meeting to see what itís all about. Contact any Lion member for information or our Club Secretary at or secretary@lionsrussell.com.

You too can SERVE!

Lion Mike Fostner
President
Russell Lions Club



Our first ever cookbook!
Click here to read all about it!


The Russell Lions Club is introducing Lions Message in a Bottle: a program which will help save lives in our community.
Click here for more info.